Disney World is well-known as a food lover's dream, with delicious snacks ranging from turkey legs and specialty cupcakes to Mickey ice cream bars and the famous Dole Whip. But Disney has its fair share of more interesting options.
Adventurous foodies may not find this list too crazy. But to an average theme park guest expecting burgers and corn dogs, seeing foods and drinks that vary from the exotic to the bizarre can be quite a surprise.
Top 10 Creepy Things You'll Only Find In The Disney Parks
10

Octopus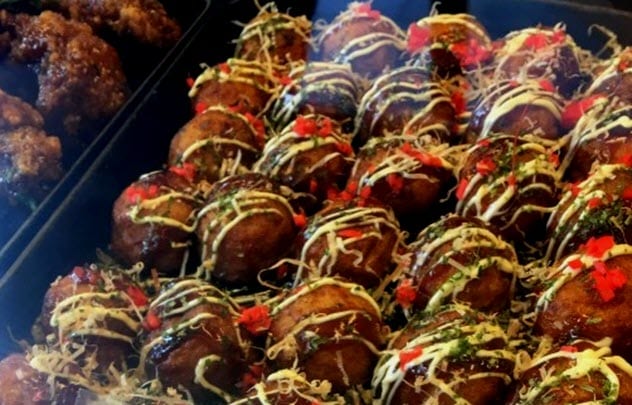 At first glance, octopus may not seem like it has a place inside a theme park. But Disney is not just about burgers and fries, y'all! There are hundreds of restaurants inside and outside the parks and plenty of high-end options where this seafood delicacy fits right in.
Asian versions of this dish include takoyaki (octopus fritters) at Morimoto Asia Street Food in Disney Springs and charred octopus at Tiffins Restaurant in Animal Kingdom Park in the Asia Pavilion. It also gets a Spanish spin at Toledo inside Coronado Springs Resort and a Mediterranean twist (octopus a la plancha) at Citricos Restaurant inside Disney's Grand Floridian Resort & Spa.[1]
There's even a giant octopus hanging from the ceiling inside T-REX Restaurant at Disney Springs, but that one isn't edible.
9

Grasshoppers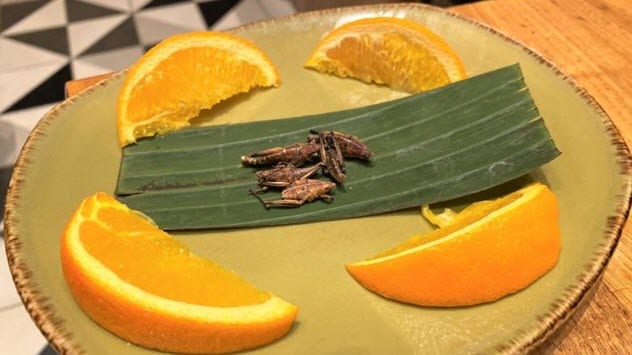 Believe it or not, there are two different places you can find grasshoppers on the menu at Disney World. Grasshoppers are a popular snack in many parts of the world due to their high protein and availability, and a couple of Disney restaurants haven't shied away from incorporating them into menus.
Frontera Cocina in Disney Springs offers a seasonal menu where you can sometimes find roasted grasshoppers served as a snack alongside their drink menu. This restaurant has also showcased chili lime grasshoppers as a crunchy topping for their guacamole in the past.
If you head over to La Cava del Tequila (known for their ever-changing and exotic menu) in Epcot's Mexico Pavilion, you can sometimes find grasshopper rim salt on some of their drinks. In 2016, they served grasshopper rim salt alongside other buggy varieties including black ant rim salt and mezcal worm rim salt.[2]
Currently, it looks like there are no bugs on any Disney World menus, but we hope to see them pop up again soon.
8

Beverly Soda

[embedded content]

Created by The Coca-Cola Company, Beverly is a carbonated soft drink launched in 1969 as a nonalcoholic aperitif for the Italian market. Beverly is an intensely bitter soda that Americans love to hate. (It sort of tastes like biting into the rind of a grapefruit.)

Although it was discontinued in 2009, Beverly can still be found in a few locations around the world, including at least one spot inside Disney World. Beverly used to be available in Club Cool, a small store near the front of Epcot that showcased Coca-Cola products. Club Cool was closed in 2019, although Disney has said that it will be reopened later "in a new capacity" (whatever that means) and a new location.

The other place you can try Beverly is at the Coca-Cola Store Rooftop Beverage Bar in Disney Springs. There, you can get Beverly's Revenge, which includes Hendrick's Gin, blackberry liqueur, cherry syrup, mint sprig, and orange slices to tone down the bitterness of the soda. It actually turns into a delicious drink that anyone would love.[3]
7

Bone Marrow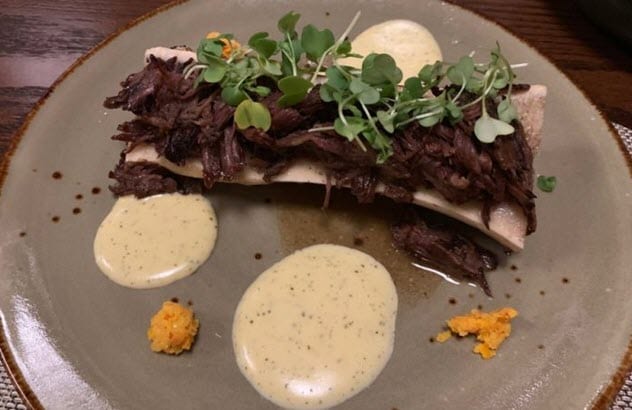 To people who haven't tried it, bone marrow may sound mega gross, but it tastes phenomenal when it's prepared well. Its smooth, silky texture is loved by many foodies. If you can get past how weird it sounds, this dish can be quite a treat.
You can find it at a few higher-end locations at Disney World. The first is at Takumi-Tei, the newest restaurant in Epcot's Japan Pavilion. Roasted bone marrow is part of their dinner menu and is served as an appetizer with braised Wagyu short rib, yuzu kosho, and wasabi shiso bavaroise warishita.[4]
Head over to Yachtsman Steakhouse located inside Disney's Yacht Club Resort to find bone marrow two ways: as a side dish to the 28-oz. prime porterhouse for two and as a "menu enhancement" served with seasonal jam and toasted green onion brioche.
6

Blue And Green Milk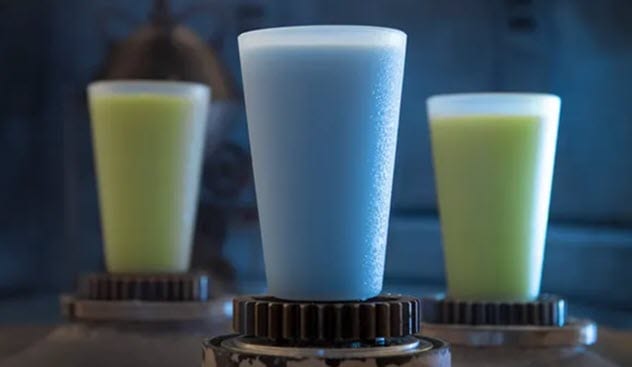 Many Star Wars fans have been obsessed with blue milk ever since they first saw Luke Skywalker help himself to a glass in Star Wars: Episode IV–A New Hope. When Star Wars: Galaxy's Edge opened in Disney World in 2019, they gave fans the chance to truly immerse themselves in the experience by opening the Milk Stand.
Guests can purchase blue milk, which is a blend of coconut and rice milk with fruity notes, or green milk, which also combines coconut and rice milk but adds a citrus and tropical flavor profile. Disney fans are torn on how good this stuff actually is, but blue milk seems to be the favorite between the two.[5]
Top 10 Ways To Get Banned From A Disney Or Universal Theme Park
5

Sushi Donut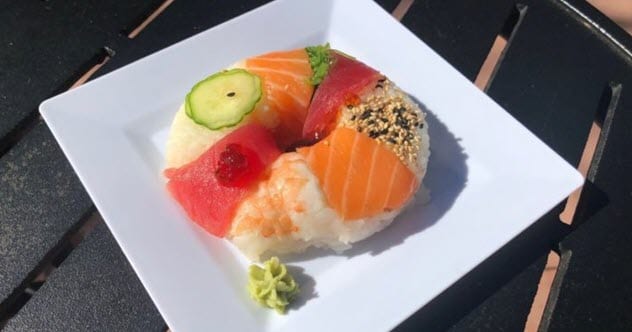 Disney finally did it. They made a sushi donut.
It debuted at the 2019 Epcot International Festival of the Arts and showed up again at the 2020 festival, which proves its popularity with the fans. The sushi donut is just what it sounds like: donut-shaped sushi featuring salmon, tuna, shrimp, cucumber, and sesame seed over a decorated plate of wasabi aioli, sriracha, and eel sauce.[6]
It's an Americanized, fun, kinda weird version of the Japanese dish we all love.
4

Bobotie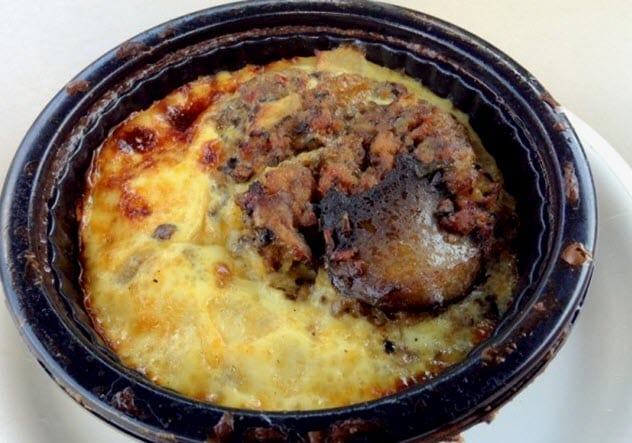 Bobotie is a South African dish made with spiced minced meat and topped with an egg mixture. Generally speaking, it's not too crazy of a dish. But Disney World guests tend to go for very tame (cough, cough, BLAND, cough) food, so this dish can be a little much for some people.
Luckily, Disney has plenty of representations of foods from around the world and bobotie can be found at several locations. Boma in Disney's Animal Kingdom Lodge serves it as part of the restaurant's rotating entree menu, Sanaa (also in Animal Kingdom Lodge) offers it on their breakfast menu as bobotie pie, and Tusker House Restaurant in Animal Kingdom Park has it on their breakfast buffet menu.
The Mara in Animal Kingdom Lodge even has a plant-based breakfast bobotie made with plant-based eggs and sausage.[7]
3

Oxtail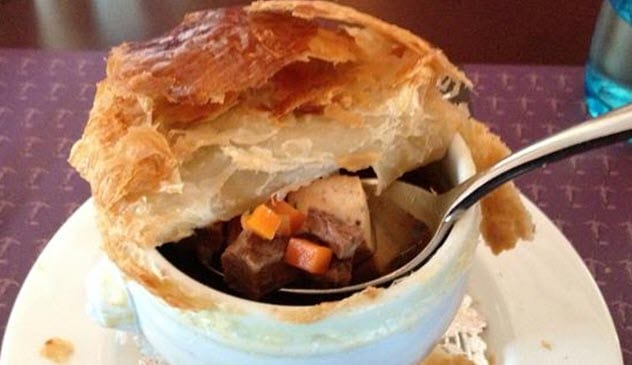 Oxtail is the culinary description for the tail of an ox. Usually slow-cooked and served in stews, oxtail is part of many traditional dishes in countries like Italy, Russia, West Africa, and France.
You can find oxtail in three different restaurants in Disney World.
The first is Monsieur Paul in Epcot's France Pavilion. There, it is served as a broth with braised beef, vegetables, and black winter truffles covered in puff pastry. The second is at Boma inside Animal Kingdom Lodge where you can try a traditional Ghanian oxtail stew. The third (also in Animal Kingdom Lodge) is at Sanaa and is offered as an African oxtail umngqusho.[8]
2

Fuzzy Tauntaun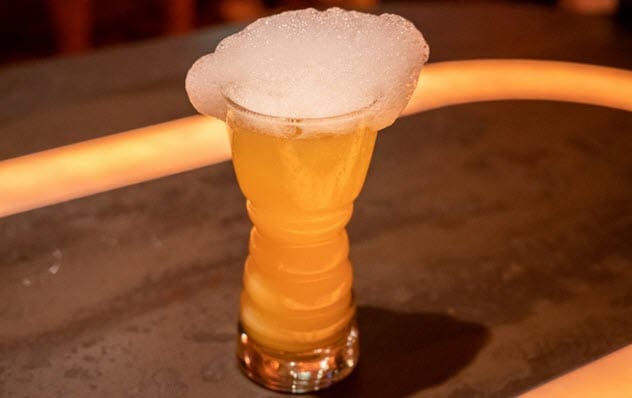 Star Wars: Galaxy's Edge introduced some of the weirdest drinks Disney World has ever seen. Although there are plenty of strange options to choose from on the planet of Batuu, Oga's Cantina has the most incredible atmosphere and the most outrageous drinks to boot.[9]
Perhaps one of the strangest things you'll ever put in your mouth is the Fuzzy Tauntaun. This alcoholic drink is made up of Ciroc Peach Vodka, Bols Peach Schnapps, Simply Orange with Tangerine, pure cane sugar, and "Buzz Button Tingling" Foam.
The foam really sets this drink apart as it has a numbing effect that will leave you wondering what is happening inside your mouth. A natural painkiller derived from a special Szechuan flower (what Disney calls "Buzz Button") is mixed into the foam to create this wild effect. Don't worry, it wears off after a few seconds!
1

Dried Baby Crabs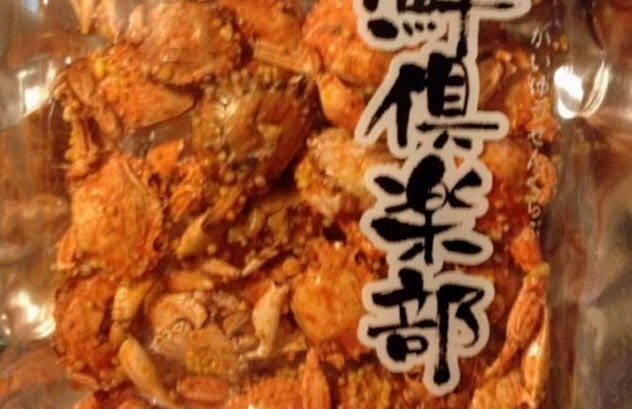 Topping the list for outright uniqueness, these dried baby crabs are definitely not something you see every day in the United States. At Epcot's Japan Pavilion, you can find these at the back of the Mitsukoshi Department Store with other popular Japanese snacks like Pocky and dried squid.
These are actually small crabs that have been dried, salted, and seasoned for your enjoyment. They're crispy and don't taste too bad, but we're not replacing our potato chips with these anytime soon.[10]
10 Ways Disney Parks Hide Things Right In Front Of You
About The Author: Anne Taylor is a freelance writer and theme park blogger. She loves to talk about all things Disney and Universal Studios, and her helpful articles can be found on tayloredtripsblog.com. You can also find her on Instagram at @tayloredtripsblog.
We Publish Lists By Our Readers! Submit Here . . .